North Shore Relationship Center is now offering animal-assisted counseling and ecotherapy activities for adolescents and adults of all abilities through the Nurtured by Nature Therapy program located at Great Strides Long Island in Middle Island.
Amanda Moffettone, a Licensed Master Social Worker, will provide counseling and support to individuals in both a peaceful and private area on the ranch. The program consists of weekly 45 minute sessions that include either walking, grooming, or bathing a horse. Depending on the preference of the client, sessions may also include mindfulness practices, activities including chalk art, mane braiding, and other creative ways to help give individuals both a chance to bond with their horse and receive guidance in resolving any personal difficulties. It caters to anyone who is either dealing with a difficult time in their life or just wants to take a break from everyday stressors to enjoy the peaceful environment and loving horses at the ranch. It is unlike traditional therapy in that it is much less formal and focuses on having the client utilize the human-animal bond to help promote self-esteem, communication skills, self-soothing techniques, and many more positive health benefits.
In addition to animal-assisted therapy, Amanda also provides counseling services at North Shore Relationship Center for clients who are interested in receiving traditional therapy. Specialty areas of her practice are pre-teens to adulthood, anxiety, depression, low self-esteem, family conflict, LGBTQ+ community and relational issues. She has over three years of experience working with a variety of issues utilizing cognitive behavioral therapy (CBT) skills. Her goal as a therapist is to provide a safe, non-judgmental environment, to discover solutions to any problems you may be facing in order to make life more fulfilling. Incorporating traditional therapy sessions in addition to the services provided through the Nurtured by Nature program can create a beneficial treatment plan for individuals looking to improve their overall-wellbeing. It also gives individuals a chance to explore multiple avenues of receiving guidance and support.
Coming soon in summer 2021, Amanda will be providing a wilderness therapy group. Those who sign up will have an opportunity to participate in scheduled hikes, interact in group therapy sessions, and foster a deeper connection with their natural surroundings at local nature preserves on Long Island.
"Our ability to break away from external stressors and focus on a peaceful place of mindfulness is a method that can have an especially profound effect on our emotional, mental, and physical well being. When we interact with nature and embrace all that it has to offer, we can learn to disconnect from the anxieties of modern life and alleviate feelings of distress. Similarly to this, animals foster a wide spectrum of positive effects regarding one's mental health by providing a sense of calm and comfort while also serving as a source of developing compassion and empowerment from within. When we build nature-based activities and the power of the human-animal bond into our daily lives, we can start to form a better sense of self-worth and trust, stabilize our emotions and learn to self-regulate better, and improve our socialization skills. This type of therapy can be a beneficial supplement to traditional therapy and a useful intervention for individuals or groups of all ages."
-Amanda Moffettone, LMSW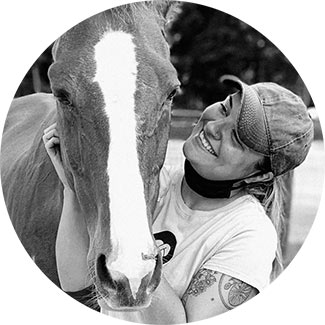 Contact us today to book your appointment
WE CAN HELP YOU ATTAIN THE PERSONAL GROWTH YOU TRULY DESIRE